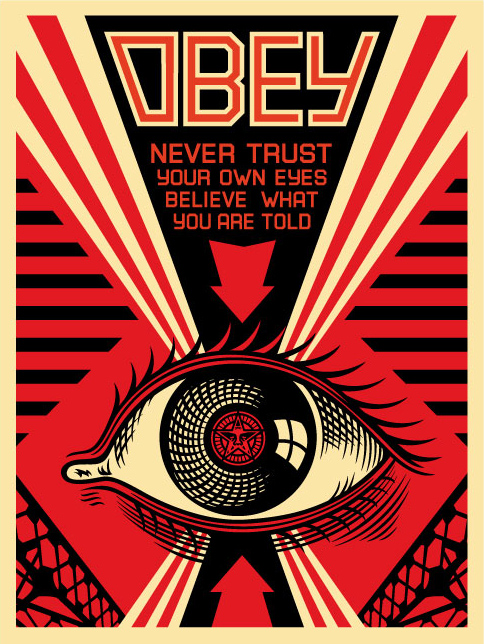 Obey Propaganda graphic art
Shepard Fairey at The Simpsons 500th episode event
As subtly acclaimed streetwear designer and artist Shepard Fairey prepares for his introduction to The Simpsons special guest cameo 'hall of fame', we here at OBWD see it as a fitting opportunity to introduce this widely unknown figure to you UK viewers that don't already know. Shepard Fairey is a controversial figure in American art and clothing design. He is famous through his profound art and clothing design, of which features connotations of conspiracy theories and political propaganda. You will probably be aware of a streetwear brand called 'OBEY', this is Fairey's clothing label which instills this 'OBEY Propaganda' in clothing form. Like many streetwear label owners he began his trade on the underground doldrums as a graffiti artist in South Carolina. He also created prints on the undersides of skateboards before attending the Rhode Island School of Design where he attained a Bachelor of Fine Arts in Illustration in 1992. His first exhibition was titled Supply & Demand in partnership with his book, and was based at the Institute of Contemporary Arts in Boston in late 2009.
The iconic 'Andre the Giant' sticker
Fairey's 'Andre the Giant has a Posse' sticker campaign (above) launched in 1989 and was to be the pedestal for purveying his street art brand. He then went on to create the instrumentally iconic Andre the Giant stencil of which he is critically acclaimed for. 19 years later he would produce the creative brilliance which would help President Barack Obama storm to the top of the popularity polls in the run up to the 2008 elections, placing him in good stead with the youth electorate.
Fairey (second right) with spray paint can in pocket
Fairey is said to be appearing in an episode entitled 'Exit Through the Kwik-e-Mart. This is said to be a direct play on a Banksy Oscar-nominated documentary called 'Exit Through the Gift Shop'. In this episode Bart is said to want to pursue a hobby in street art, he later gets caught out by Shepard Fairey and three other well known artists Ron English, Kenny Scharf and Robbie Conal, who to Bart's surprise invite him to have his work displayed in a gallery - interesting stuff! The episode will premiere on FOX in the US on March 4.
Shepard Fairey is said to have lied about the photo used in the 'HOPE' campaign
Shepard Fairey has recently pleaded guilty in a copyright infringement case involving the Barack Obama 'HOPE' campaign posters and the
Associated Press
(US). Fairey is said to have lied about which photo he used to create the posters of which he has admitted in court. He could face up to 6 month behind bars and a maximum fine of 5000USD which is completely baffling. This all appears to have come straight out of the blue as the 42-year-old is a phenomenally talented artist who has produced some eye-opening pieces of work spanning decades. Could this be a plot to land the man behind bars who has an influential swing at this moment in time in the States, a man who creates highly influential propaganda? Who knows!
Information about Shepard Fairey and OBEY Clothing can be found on the
official website
.